Gov. Patrick Discusses Independent Commission
July 12, 2013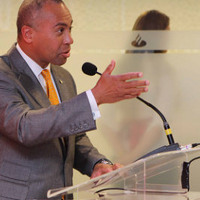 Governor Patrick said he would sign a bill for an independent commission to perform a scientific health study of wind turbines if it arrives on his desk. The governor 's comment came during his monthly appearance on Boston Public Radio, a show hosted by Margery Eagan and Jim Braude on 89.7 FM WGBH Radio at noon each weekday. Caller  Linda Ohkagawa from Falmouth had testified in Boston on Monday in support of H2048, sponsored by Representative Sarah Peake. On the radio show, Ms. Ohkagawa said of the bill,
I think it's much needed. For once it doesn't put the burden of proof on the suffering people to prove harm. It assumes that there is probably some harm and it seeks to see what is the extent of that harm. I think that what we really want to know is are these (wind turbines) harm-free? …We feel the harm.
Her own experience led her to ask the question from a grandmother-to-new-grandfather vantage point–Patrick's grandson was born in May and his photograph tweeted  on July 1, 2013 ("Deval Patrick Tweets Photo Of First Grandson" reported by CBS 's Boston affiliate WBZ).
Ohkagawa was one of seven Falmouth wind turbine "neighbors" to testify before the Joint Committee on Public Health in support of several bills that would establish an independent commission to study health effects. As she said on WGBH radio:
I fear the effects on my visiting grandchildren… when I see them holding their ears at my house, which I don't see them doing at their own house.
Like many people in Massachusetts, Patrick's remarks demonstrated little knowledge of wind turbine emissions. Like many officials, his comments minimize any dangers in the same dismissive way as the wind industry.
For the full 3-minute exchange, click here.